WAYS TO DECLUTTER YOUR HOME
Most of us would like an organised & uncluttered home & workspace where we can be more efficient, more productive and more at peace. We really can't be at our best when the overflowing closet or a cluttered kitchen is constantly bothering us.
Decluttering an entire home can be a huge task. Trying to manage a mountain of stuff can feel overwhelming. The best way to go about it is to start with one room, one space or even one corner at a time.
Here are a few great ideas from design experts to get your home in tip-top shape.
Declutter your Bedroom
Bedrooms happen to be the most cluttered spaces in any house.
Check the Drawers: Empty the drawers completely and check each item. If you haven't used it in a year's time, get rid of it or move it to a place where it belongs. Add dividers or containers to put like things together. You can reuse shoe boxes, gift boxes, cereal boxes as drawer storage systems.
Clear out Flat Surfaces: Limit the number things you keep on flat surfaces. Photo frames & lamps are ok but keep them clear of less useful things.
Use Storage Boxes: Items not used so frequently - such as kids' old toys, seasonal clothing, extra bedding - can be tucked away in storage boxes. Also, you might want to identify things that you do & don't need.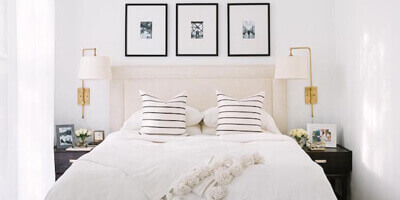 Declutter your Closet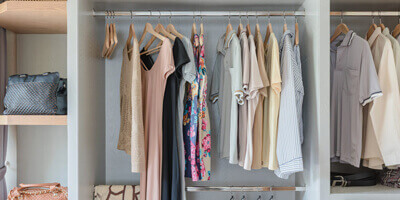 Clearing out overstuffed closets can feel relaxing & maybe even therapeutic. Going through your old clothes, shoes & other stuff can not just uncluttered your space, but also cleanse your mind of the emotional baggage connected to those items.
Get rid of Clothes & Shoes: Follow the 80/20 rule while clearing out your closet. Typically we use 20% of our clothes, 80% of the time. Ask yourself these questions: Does it still fit? Is it torn, faded or damaged? Have I worn in the last one year? If the answer is no to any of these questions, it's time to get rid of them.
Clean up the Shelves: Remove all your stuff from the closet & clean up the entire shelf. When you put things back ensure you are able to see everything in the closet without moving too much out of the way.
Declutter your Kitchen
Kitchen is used more often than any other room in the house. Clutter is likely to get built up in cabinets, drawer & countertops.
Start with countertops: Aim to keep the countertops clear except with 4 to 5 essential items like a knife block. Find a new place for everything you need & get rid of things your do not need.
Consider throwing away items you have not used in a long time. Move stuff like small appliances or plastic containers that belong in a different zone.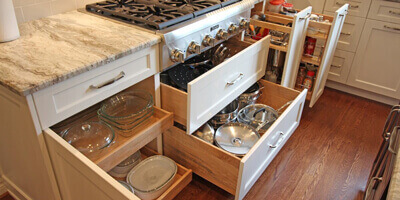 Declutter your Bathroom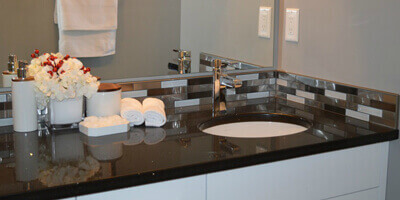 Decluttering your bathroom can be the simplest of all. Get rid of unused stuff & organise the items that take up too much space.
Get rid of the excess: Clear our the counters & empty the shelves in multiple bathrooms. If you are holding onto a product with just a little bit left, give yourself a week's time to use it. If you don't use it by then, get rid of it.
Put similar things together: Start grouping similar items together like cleaning supplies, toiletries & make up. Use dividers, boxes or baskets for organising your stuff together.
Once you have uncluttered your home, be sure to declutter a little bit everyday to keep it organised & beautiful.